Since march 2020, the world has been living in a chaotic health crisis. Covid-19, also known as the Coronavirus, had begun its trip around the world to stay and cause damage. Peru was one of the first countries in Latin America to shut its borders, and, despite the efforts, the country suffered the clashes with the disease with thousands of deaths and collapsed hospitals.
This was not alien to the Jewish community of Huánuco, which, faced with the call for love and helping others, formed a team of doctors to provide aid for the ones in need.
The Jewish community of Huánuco, formed largely by doctors with different specialisations, united itself to the front lines supporting and fighting covid-19.
The community leaders met to plan the way to help and formed a team that helped in several corners of the country and region, working in shifts of often more than 48 hours.
The multidisciplinary team was led by Dr Herman Bauer (chief and medical director, specialised in infectology and tropical medicien), Dr Juan J. Bravo (community president), Dr Erwin Bauer (vice-president), Dr Miguel Lino Mays, Dr Jose Zevallos, Dr Yeny León Montero, Dr Jimmy Idrogo, Dr Jorge Camarena Borrovich, Dr Gerado Zevallos, Dr Alex Paredes, and Dr Vhannia Rojas Aliaga.
The aim was to give aid and be at the front lines, and despite the deficits and economic hardships, we received economic help from Rabbi Peter Tarlow, to purchase biosecurity equipments, so we could help patients and carry on our work of helping others.
Currently the doctors of the Huánuco community carry on working to bring health to those in need.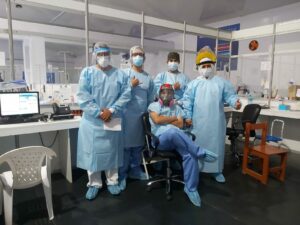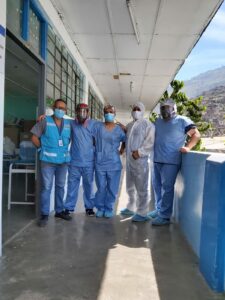 Dr. Herman Bauer, Dr. Juan J Bravo, Dr. Yeny León, Dr. Jimmy Idrogo, Dr. Alex Paredes