About ten years ago, a study group within the Brazilian branch of UJR Latin America set heart on the development of a bold project: the creation of a chumash compatible with the Jewish world as well as the values nurtured by the Reform movement.
Diverse options and formats were analysed. Ultimately, a decision was reached. As a result, seven years ago a group of volunteers, scholars among them, started to work diligently on the Portuguese translation of "The Torah – A Modern Commentary" edited by Rabbi Gunther Plaut.
The project was completed last month and a beautiful complete translation of the Plaut Chumash is now available to all Reform congregations in Brazil, a move which will undoubtedly foster the study and consequent love of the Torah by Brazilian Jews.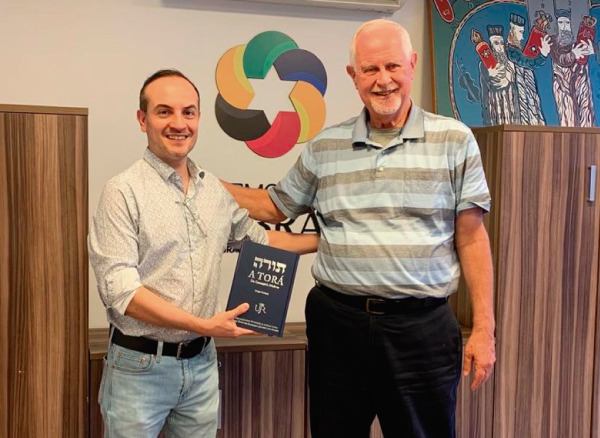 Daniel Weiss, chair of UJR Latin America, comments that, up to this moment, the only option available and used by the communities in Brazil was a chumash with a strong orthodox bias. An edition which, at times, embedded midrashic interpretation within the Portuguese text. By doing so, without notice, it distorted the reading of the text itself. Consequently, Mr Weiss states "We had a cognitive dissonance between the spoken word which emanates from our pulpits and study rooms and the printed text we distributed to our congregants. Plaut will lead us to a new era of Torah study and love for our sources."
The scope of this new edition goes beyond the Brazilian Reform circles, since, not only is the Plaut Chumash, the first to offer a liberal background, but it also is the first translation of the Torah to Portuguese written in updated, current language; in other words, it's much easier to read.
The project has the leadership of Raul Gottlieb, former UJR chair, and of Karin Zingerevitz, former executive director, who led an amazing team of translators and reviewers. Plaut chumash was funded by a committed group of friends of the UJR, both American and Brazilians. UJR has no words to thank this group of extraordinary Reform Jews that contributed to this hallmark and turning point for both congregants and scholars in Latin America, particularly in Brazil.
—
This article was originally published on the World Union for Progressive Judaism's website, available at https://wupj.org/news/2021/11/47140/brazil-latin-american-reform-movement-launchs-portuguese-edition-of-plaut-chumash/.